A Showcase Of Extravagance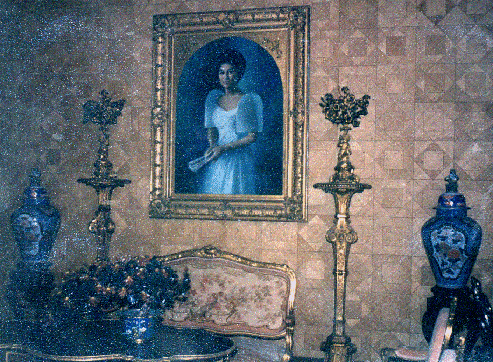 The Cory Aquino Government formed the Presidential
Commission on Good Government (PCGG) after the fall of the Marcos
Conjugal Dictatorship in 1986. Its prime objective is the sequestration of
the ill-gotten assets of Ferdinand E. Marcos, his relatives and cronies, and
to preserve and maintain these until their final litigation.
The PCGG failed of its expectation to recover swiftly the so-called
ill-gotten wealth amassed by Marcos, relatives and his cronies. Many
of the sequestered assets were looted, plundered and vandalized. As a result
the Philippine government lost millions. Former First Lady Imelda R.
Marcos built posh edifices through out her reign. Imelda stored valuable
art works like priceless paintings of Filipino masters, European artists and
Russian religious icons in Santo Niño Shrine, Tacloban, Leyte.
Many of these art objects have now been reported missing. Many of these have been declared as fakes. Were they also bought from Vietnam?

Imelda's Related Sites